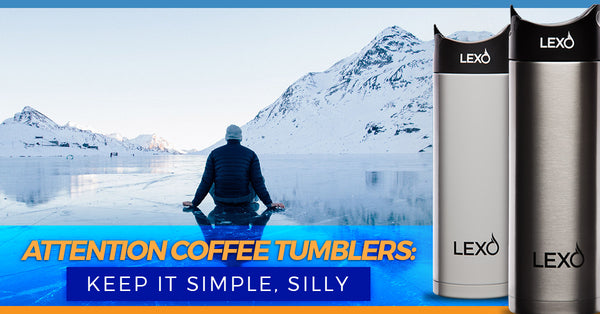 Attention Coffee Tumblers: Keep It Simple, Silly
In the coffee tumbler industry, we've seen a whole mess of problems that extend far beyond coffee that is too hot or too easy to spill.

Although those are two main points of emphasis when it comes to the best coffee tumbler, the LEXO, we've also noticed that too many people are buying tumblers on promises that can't be fulfilled.

From electric mugs that require an outlet, to confusing and malfunctioning microprocessors, to the implementation of apps (um, what?), the industry is just getting too overly technical for its own good.

That's why at LEXO, we've stayed true to our one simple goal — to deliver the best coffee tumbler which keeps your drinks warm, delicious, and out of your lap or shirt — with our one simple mantra.

Now you're seething with anticipation. We know. The wait is the best part. What is that mantra? Here it comes. Are you ready? OK. Close your eyes. And K.I.S.S.
Keep It Simple, Silly
Your coffee tumbler shouldn't be electronic, overly complicated, or require a phone application and a Master's degree to operate. It should do all of the work for you, so that you can focus on what truly matters throughout your hectic day.

Coffee mugs in recent years have just become too messy, to disorganized, and too intricate. That has caused them to lose sight of the main purpose, which is to help deliver a vessel which helps people retain and consume their coffee in an efficient manner.

Well, not us. We offer the best coffee tumblers that are designed for that simple purpose. Rather than relying on outside technology, we've incorporated a scientific form of technology which operates from inside the LEXO mug.

With this Temperature Control innovation, our coffee tumbler has the ability to cool your coffee from more than 200 degrees down to the perfect drinking temperature, between 125-135 degrees, and it keeps it there for hours. That means no more scalding coffee, no more burnt tongues, and no more nuking your mug in the microwave throughout the day.

It's simple. It's efficient. It's safe. And it's the future. It could only be the LEXO.
Temperature Lock Lids
Another overly complicated aspect of the coffee tumbler industry has been the lids. You shouldn't have to solve the Da Vinci Code to be able to access your hot (or cold) drinks whenever and wherever you want.

The LEXO tumbler has simplified this process as well with our easy-use, temperature-lock lid options. With different varieties based on your lifestyle, you can choose from a variety of coffee tumbler lids that are reliable, efficient, and prevent spills.

Choose from flip top, active flat top, two-stage hinge lid, luxury slide seal, or simple temperature lock, and bring your LEXO tumbler wherever you go. That's the way it should be, after all.
Cool Colors
Your coffee tumbler doesn't have to feature all kinds of bells, whistles, buttons, and gradients to make it cool. When it comes to the design of our LEXO tumblers, we decided to keep it simple and sleek once again.

The standard 10 and 16 oz. smart mugs are available in the basic colors, which don't compromise function in order to look flashy. You can choose from Stainless Steel, Matte Black, or Cream White. If you're looking for a bit of flair, then fear not. Check out our 16-oz. GRIT series, which offers maximum durability and portability for the more extreme lifestyles. The GRIT mugs come in Rose Gold, Black, White, and Mint, allowing you to match your simple coffee tumbler to your mood or personality with ease.
Efficiency
Listen, when you choose the LEXO smart mug, you're choosing the only coffee tumbler that never substitutes anything for functionality. You're getting an efficient, reliable smart mug which was engineered by experts and is backed by phase change science, allowing you to solve the problem of scalding hot coffee once and for all.

You can enjoy your beverages anywhere, at a temperature that is always hot and drinkable, with a lid that will lock in those temperatures and prevent spills.

When it comes to buying coffee tumblers, you don't need a microprocessor or a user guide. All you need is the LEXO. Keep it simple and buy yours today.