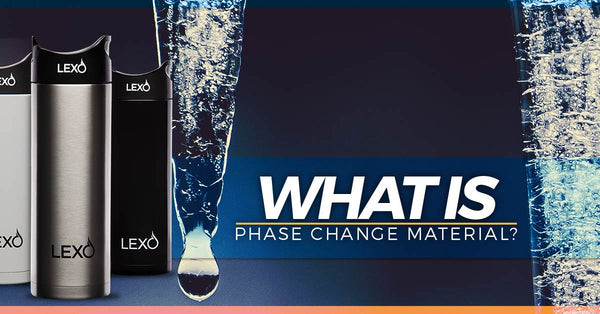 What Is Phase Change Material?
The secret is out.
The LEXO has arrived on the scene in a big way.
Our stainless steel coffee tumbler (which comes with a variety of lid options to suit your needs) has solved the problem of scalding hot coffee through the use of phase change materials and an advanced heat transfer system you won't find anywhere else.
Our coffee tumblers not only cool your hot coffee almost instantly to achieve a perfect drinking temperature, but they keep your drink at that temperature throughout the day, eliminating the need to re-heat, re-pour, or waste your precious coffee.
But wait, there's more.
Our innovative LEXO mugs also work with cold beverages, keeping them chilled and refreshing for hours.
Whichever end of the spectrum you desire, our LEXO tumbler can achieve it.
It may sound too good to be true, but it isn't.
So, how does it work?
We'd love to explain.
Our unique coffee mugs are equipped with not only three layers of extra thick stainless steel, but they also feature wall-to-wall phase change material.
This phase change material initially starts as a solid within the walls of the LEXO, and quickly "melts" into a looser liquid form when a hot liquid is poured into the tumbler.
This type of material then takes many hours to return back to its solid form, which means heat is being transferred for the duration of that process, enabling your coffee or other hot beverage to maintain its temperature consistently.
Sounds awesome, right?
It is. But now that we've identified how phase change material works, we'll briefly outline what phase change material actually is, and how it can be applied to other areas.
If you're ready to get the best coffee tumbler equipped with phase change material, order your LEXO here today.
About Phase Change Material
Generally speaking, phase change material is a substance with a high heat of fusion.
These materials melt and solidify when they meet a designated temperature and are capable of storing and releasing large amounts of energy (like, for example, when it comes into contact with a hot beverage).
Looking for a basic example of a phase change material? Take a look at the bottle of water on your desk.
Water, as we all know, transitions from liquid to a solid when temperatures reach below 32 degrees. At this point, it stores and releases energy, thus becoming capable of keeping another liquid cold.
This type of process has since been scientifically developed and applied to a multitude of industries and solutions, such as:
Thermal energy storage (i.e. solar energy storage)
Cooling of heat and electrical engines
Hot/cold therapies for injuries (ice or heat packs)
Cooling a computer
And more
With the invention of the LEXO insulated tumbler, the phase change experts at ThermAvant took this technology a step further.
Now, professionals across all industries who are avid coffee drinkers have a solution to scalding hot coffee and coffee that has lost its heat.
With the LEXO, your coffee will retain its drinking temperature for much longer than competitors.
The LEXO (and the bio-based phase change materials in the wall of the tumbler) is dishwasher safe and comes with a lifetime guarantee.
It will quickly become the only coffee mug you'll ever need.
Finally, power of science and technology meets the needs of the coffee consumer. Get yours today in either a 16 oz. or 10 oz. size.
About ThermAvant
ThermAvant Technologies was formed in 2007 by Dr. Bill Ma, Dr. Bin Wu, and Mr. Joe Boswell after the trio crossed paths through their work with the Department of Energy.
Our founders' goal, and the goal of ThermAvant as a whole, is to develop cleaner, more efficient thermal solutions for consumer, commercial, and industrial applications.
It was this drive that led to the development of the LEXO, a one-of-a-kind coffee tumbler that utilizes our heat transfer system to cool coffee and maintain a perfect drinking temperature throughout the day.
It's our mission to anticipate these types of next-generation problems and come up with solutions now, whether it be through our innovative stainless steel coffee tumblers or through our custom oscillating heat pipe thermal solutions.
Learn more about our mission and our team of heat transfer experts here, and order your LEXO tumbler today.