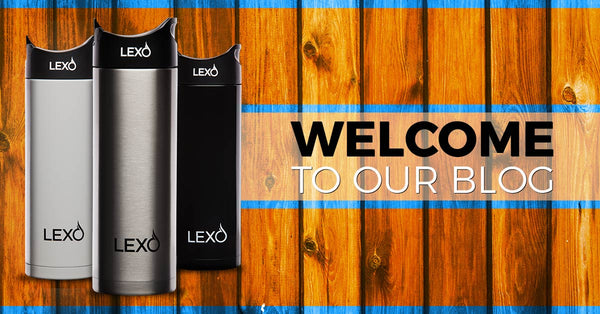 Welcome To Our Blog
Here's something you know: Coffee is one of life's necessities.
Whether you need it to power through the work day or just love the taste, it's one of the hottest (get it?) drinks in the world.
But there's a problem. Your coffee is brewed at temperatures up to 205 degrees. That's hot. It's so hot that your mouth can't even handle it. In fact, your mouth is only built to withstand drinks and temperatures from 150 degrees and lower.
That means you have to wait. And wait. And wait some more while your fresh coffee cools down. That means you're missing out on valuable time with your coffee and its effects - or any one of your beloved hot beverages, for that matter.
Well, here's something you don't know: There's a solution for all of that.
Introducing ThermAvant's LEXO, the best insulated tumbler on the market. It was scientifically engineered to cool hot drinks down to the perfect drinking temperature in mere minutes. Even better, the LEXO hot beverage container keeps those drinks there for hours, giving you a sustainable source of your favorite hot drink throughout the day.
Not a fan of hot drinks? Adding to its already incredible versatility, the LEXO stainless steel tumbler also features innovative insulation which keeps your cold drinks cold throughout the day, eliminating the need to refill on your ice or dump out your drink because it lost its icy cold refreshment capabilities.
So yeah, like we said - the LEXO is the best insulated tumbler on the market.
Still don't believe us? Here, we'll prove it.
Meet the LEXO
This is not your standard tumbler. The LEXO vacuum insulated tumbler by ThermAvant features a drink-fast triple wall of 18/8 stainless steel and offers the style, portability and convenience of a regular tumbler with the added benefit of our innovative temperature control technology.
How do we accomplish that?
We've harnessed the power of phase change materials in the tumbler's walls, which is a substance which melts from a solid to liquid when the coffee or hot drink is poured into the LEXO.
The heat transfer system then goes to work on cooling that drink immediately, absorbing the scalding heat from the coffee or tea and then redistributing it at a steady temperature for the next few hours.
All of this happens in the matter of minutes. The Bio-based phase change material, on the other hand, takes many hours to go from liquid back to solid, which is what holds your drink at a near constant, perfect drinking temperature that will sustain itself throughout the day.
We know, we can hardly believe it either.
But rub your eyes, pinch yourself, and splash some water on your face. Because it's true!
Phase change technology is absolutely safe - think of ice going from solid to liquid and back to solid again - and so is the LEXO travel coffee tumbler.
Some other fantastic features of the LEXO include:
Extra thick construction with three layers of 18/8 stainless steel.
BPA-free plastic lids, available in a multitude of easy to use options and colors including a Flat Top Temperature Lock Lid, Luxury Slide Lid, Flip Top Hinge Lid, or an Active Flat Top Lid.
Four colors of stainless steel coffee mugs with lids are available: Black, Stainless Steel, White, and Stainless/Black.
Available in 10 oz. and 16 oz. options for your convenience. 
The LEXO is the best coffee tumbler and the most versatile insulated tumbler. It's lightweight, easy to carry with you on the go and the lids' advanced sealing system helps keep your beverage insulated and where it's supposed to be.
We told you: This is not your standard tumbler.
Practical Uses
Surely you've already thought of a multitude of ways that the LEXO insulated tumbler will make your life better. But here are some more, just to make sure we covered all of our bases.
Take your coffee to work: The LEXO is the best coffee tumbler. Imagine filling your unique travel mug before you go to work and drinking it on the way to the office - without worrying about burning your tongue or spilling. That's the LEXO advantage.
Take it on a hike: The LEXO is also the best insulated tumbler to take on a hike. Whether you fill it with water, your favorite sports drink or even a recreational beverage, the LEXO will keep it cold and secure so you can be refreshed on-demand.
Hit the slopes: You can take the LEXO anywhere you go - even on top of a mountain. Fill it with hot cocoa, coffee, or tea when you're hitting the slopes and break it out when you need a pick-me-up. Don't worry, your drink will still be hot even if your nose is cold.
Wherever you choose to take your LEXO, know that it will always be there to keep your drink at the perfect temperature and serve as the best coffee tumbler. Order yours today.