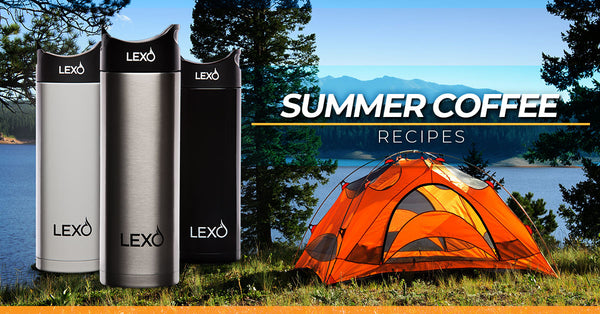 Summer Coffee Recipes
Don't get bogged down with summertime sadness.

Just because the temperature is heating up outside, that doesn't mean you still can't enjoy your daily cup (or cups — who's counting, anyway) of coffee, now does it?

No, it surely does not. Here at LEXO, we believe coffee is good for any time of day and at any time of year.

In this blog, we'll point you in the right direction with a few summer coffee recipes that will make you say "Mmm."

And remember, no cup of joe is complete without the ultimate tumbler companion. But your coffee deserves more than just your standard tumbler.

Your coffee deserves the LEXO smart mug — complete with temperature control capabilities without the need for electronics, gadgets, or other nonsense.

Keep reading to learn more summer coffee ideas and happy brewing!
Nitro Cold Brew
This one is a popular choice among modern coffee drinkers. If you don't know much about the cold brew craze, it basically revolves around the fact that cold brew coffee is, well, brewed cold — thus, it is less acidic, less bitter, and more refreshing on a warm summer day.

But the nitro aspect is a unique twist on the cold brew phase which makes your coffee more visually appealing, foamy, and even creamier.

Don't have nitro laying around the house? Yeah, us either. For this one, you'll likely have to head into your favorite, friendly neighborhood coffee house.

But just remember to bring in your LEXO smart mug to have it poured in there so it stays ice-cold throughout the day!
Iced Latte
This is an all-time classic, and with good reason. You simply can't go wrong with the iced cold, milky, and downright delicious combination of a latte.

If you have a home espresso machine, you can easily make your own iced latte. Just add your favorite syrup, fire up your espresso, toss in some ice, and top with milk. Mix it all together and you have the perfect summer coffee drink.

For an added twist: Turn your regular old iced latte into a "Spanish" latte by adding sweetened condensed milk instead, and top with a dash of cinnamon. Delicious!
Chilly Irishman
Are you looking for a more buzz-worthy summer coffee drink? Well this is just the thing for you.

A Chilly Irishman combines everything you know and love about coffee with a kick — coffee, Irish cream, Irish whiskey, and coffee liquor — and adds a special twist.

It's frozen! Throw all of those ingredients together in a blender along with a scoop of vanilla ice cream, a couple of ice cubes, and blend them all together.

The result? A downright fantastic slushie that's worth the buzz.
Not Your Standard Tumbler
The LEXO is far from your standard tumbler. While most coffee tumblers are good for just storing any old beverage, our smart mug is engineered specifically for your favorite beverage. Whether you want to keep your coffee hot, or preserve the chilliness of an iced beverage, the LEXO can handle it.

Learn more about the world's first smart mug and get yours today.