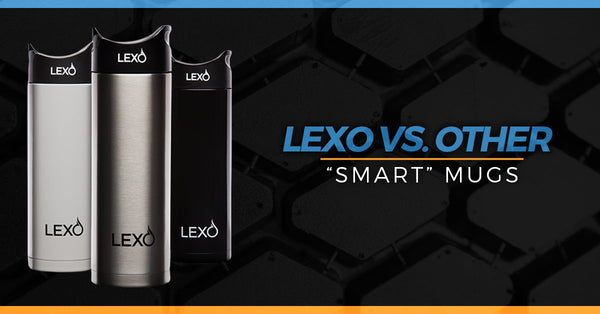 LEXO vs. Other "Smart" Mugs
Shopping for the best coffee tumbler for your on-the-go and temperature control needs can be somewhat overwhelming these days.

This one has an app. This one has buttons. That one has a battery charger (for some reason).

How can you know which one will truly deliver as the best coffee tumbler? Well, we have some news for you.

While competitors are relying more and more on gadgets and electronics to power their tumblers, the LEXO is busy serving as the world's first smart mug.

The LEXO uses engineer-developed phase change materials and the natural process of physics in order to cool coffee, hot tea, and other beverages down to the perfect drinking temperature — which studies show is somewhere around 136-140 degrees — and holds it there for hours.

So how do these self-proclaimed "smart" mugs hold up to the capabilities and features of the world's best coffee tumbler? Let's find out.
How It Works
The Competitor
Competitor "smart" mugs tend to overcomplicate things when it comes to creating the perfect temperature for your hot coffee or tea.

Many of them use microprocessors, electronics, gadgets, and dials in order to heat or cool your coffee. They claim that you can dial in your desired temperature and it will use those microprocessors to dial it in. That means a lot of guesswork is involved, and as we all know electronics tend to fail on occasion.
The LEXO
The LEXO, on the other hand, uses science to create and hold the perfect drinking temperature. The LEXO was developed by a group of the top mechanical and heat transfer engineers in the country, who used and applied practical knowledge to design, test, and retest our mug to ensure that it is the best tumbler on the market.

The LEXO is truly a smart mug, using phase change/temperature control materials within its triple-layer walls to absorb the initial heat blast from coffee or other liquids, and then uses the scientific processes of conduction and convection to re-distribute heat back into the liquid throughout the course of the day. No gadgets, bells, or whistles required.
Portability
The Competitor
Because the competitor's electronic mug is battery-powered, there are some certain obvious limitations. Namely, you can't always rely on that battery to be charged when you need it most.

In fact, many competitor "smart" mugs are designed to last for only a couple of hours. What happens when you're on the go and your battery dies? Then you're back to having just a regular, old mug. That's not very smart.
The LEXO
LEXO is the ultimate travel mug, which is durable and portable enough to go wherever you go. You don't have to worry about cords or batteries with the LEXO — it performs with its stainless steel, bio-based phase change material, and temperature locking lids no matter if you're at work, on the road, or on the slopes.

LEXO keeps your drinks hot drinks at the perfect temperature all day — for as long as eight hours — no matter what.
Durability
The Competitor
We all know that electronics break down at the least convenient times. Competitor "smart" mugs are no different. Issues can crop up at anytime, and if one of those microprocessors goes on the fritz, then you are suddenly out of luck.
The LEXO
LEXO mugs are constructed from 18/8 extra thick stainless steel, feature three layers of vacuum insulated walls, and are built to hold up to daily on-the-go living.

Each lid is also made from BPA-free material, is spill-resistant, and built for daily use.
Price
The Competitor
Now we come to the big one. Most competitor "smart" mugs are going to run you about $150 for a 12-oz. version, with merely a 30-day money-back guarantee and one year limited warranty. That's more than double what you'll pay for the LEXO.
The LEXO
The 16-oz. LEXO mugs retail for around $40, which is a heck of a deal for the world's first and best smart mug. Each of our qualified products also comes with a lifetime guarantee, so you have peace of mind to go along with your perfectly drinkable coffee.
Conclusion
The facts and figures speak for themselves, don't they? Shop for the best smart mug on the market today and experience the LEXO life.